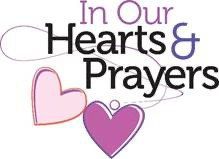 Members: Joyce Arnette, Nancy Buckman, Doris Davis; Art and Diane Dayton; Diane Geary, Martha Marlow; Delores Miner, John Pratt; Paula Smith, Melva Lea Stewart; Gary Walker, Owen Williams, John Wilson. 
Military: Joe Fraley, Andy Harrison, Sgt. Joey Horne, John Modlin, Branden Mooney, Tyler Ray, Anthony Ripley, David Ritz, Alex Harris. 
Family and Friends: Eric Bower; Martha Halsell; Sue Heavner; Barbara Love; Dan Pearson; Sue & Ted Penny; Virginia Platts, Loren Smith; Scarlett Swain.
And all unnamed persons needing God's peace, comfort and healing.
With the dawning of each new day, we need courage to take each new step in our walk of faith.
Dear Lord, help us to quiet the chaos in our minds so that we can take the time to hear your voice, accept it, and put into practice what you tell us. Amen.
 IF YOU HAVE REQUESTED PRAYERS FOR ANY OF THE ABOVE NAMED AND THEY ARE HEALED OR RECOVERED AND CAN COME OFF THE LIST PLEASE LET KIM KNOW.
Last Updated: May 12, 2022