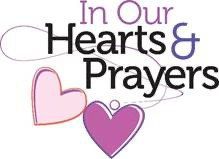 Members: Joyce Arnette, Judy Beck, Nancy Buckman, Doris Davis, Lanae Fowler, Diane Geary, Delores Miner, Jenny Mizell, Bob Patterson, Diane Secary, Paula Smith, Jill Strohpaul, Linda Wells, Gail Widholm, and John Wilson.
Military: Joe Fraley, Andy Harrison, Sgt. Joey Horne, John Modlin, Branden Mooney, Tyler Ray, Anthony Ripley, David Ritz, Alex Harris.
Family and Friends: the family of Phil Boney; Curtis Campbell; Johnny Carter; Mike Commee; Grayson Cooney; Eli Hardin; Roy Thomas Horne; Shirley Paul: Teresa Sanderson; Bob Starr and family; Leo Wolfe; Joy Zalaiskalns.and family;
  And all unnamed persons needing God's peace, comfort and healing.
 IF YOU HAVE REQUESTED PRAYERS FOR ANY OF THE ABOVE NAMED AND THEY ARE HEALED OR RECOVERED AND CAN COME OFF THE LIST PLEASE LET JUDY KNOW.
Last Updated: Nov 18, 2021