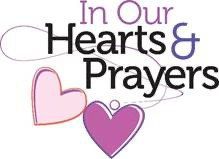 Members: Joyce Arnette; Ray Blackburn; Nancy Buckman, Families of: Marcus Burnett Jr, Charles nephew, whose wife crossed over and Venita Marie Burnett, Charles' cousin, who crossed over; Doris & Mike Davis; David Decatur; Patty Feige; Judy & Ken Hoopes; Janet Hughes; Janice Long; Martha Marlow; Pastor Neal McHenry; Tony Merlino; Larry & Becki Modlin; Judy Pratt; Rachel Shade; Steve Wells; the family of Susan Wieland; Jim Wygant.
Military: Joe Fraley, Alex Harris, Andy Harrison, Ryan Hermance; Greg Holmes; Sgt. Joey Horne; Abbie Kizer, John Modlin, Branden Mooney, Tyler Ray, David Ritz, Michael Roberson, Charlotte Taylor.
Family and Friends: David Abernethy (Jewels Dad); Johnsie's great niece Rebekah and family; Kelly Bonnell's Husband; MK Clewis's daughter, Harper, and family; Eileen Eifert (John Pratt's sister); Parker Fox; Sue Heavner (Jewels Grandmother); Linda Holt (Mike Hopper's Sister); Rick Hughes; Elizabeth Lilly (Gail's granddaughter); Catherine McDowell; Tommy Mears; Jenny Merritt; the family of Rachael Meyer; Todd Rice (Colin's brother); Barbara & Neil Schilling; Julie Scott (Hank & Jan Maser); Sue Thomas (Janet Hughes Sister); Brenda (Harriet Rice's friend).
.
And all unnamed persons needing God's peace, comfort and healing.
With the dawning of each new day, we need courage to take each new step in our walk of faith.
Dear Lord, help us to quiet the chaos in our minds so that we can take the time to hear your voice, accept it, and put into practice what you tell us. Amen.
 IF YOU HAVE REQUESTED PRAYERS FOR ANY OF THE ABOVE NAMED AND THEY ARE HEALED OR RECOVERED AND CAN COME OFF THE LIST PLEASE LET KIM KNOW.
Last Updated: November 30, 2023